LIVE LUXURY IN A HEALTHY WAY WITH HEALTHY HOMES IN NİSANTASI
With the pandemic that comes into our lives, we understood how important our health is once again.This project brings health to the center of your life with the healthy home concept it has implemented.
Health is, as it should be, at the forefront In World
LIVE LUXURY IN NİŞANTAŞI WITH HEALTHY HOMES, IN TOUCH WITH THE NATURE
In this project, you will be not just in the center of the city but also in the center of the green spaces. As you catch the rhythm of life, you will also hear the symphony of nature. As you will be surrounded by artworks, you will also hear the heartbeats of the nature and watch its unique beauty.
If you were to ask why this project has so many details about nature, it is because we attach great importance to the "healing" power of nature. Fresh air and plenty of oxygen will flow into your home through the spacious terraces, which you can access from your living rooms, bedrooms and kitchens. Your home will be filled with the oxygen rising from the centuries-old trees of the Ihlamur Pavilion that is located right next to your home, from thousands of square meters of grove. You will always feel fresh and live a forest life in the middle of the city.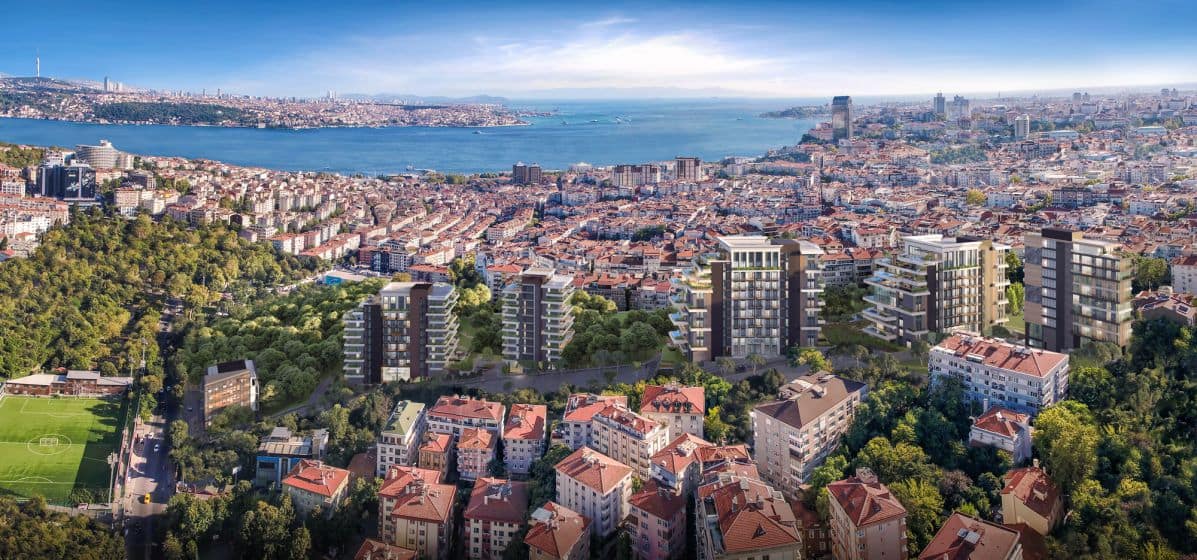 IT'S CLOSE TO THE CITY-CENTER AND IN A WELL-ESTABLISHED NEIGHBOURHOOD
A luxurious home is a home that stands out for its outstanding features and is located in a worldwide known neighborhood. Such a neighbourhood has a distinguished past, yet it also offers the privileges of this age.
APARTMENT-SIZED TERRACES
Luxury brings innovations with it. The Terrace Lofts redefine the boundaries of luxury with the comfort of a villa for everyone. These exclusive Terrace Lofts in which every detail has been carefully considered, fresh air and plenty of oxygen will flow into your house. Apartment-sized terraces will let the clean air of the Bosphorus inside and make you feel alive with every breath.
Thanks to this natural atmosphere that almost surpasses the total green areas of Nişantaşı, you will experience tranquility at the center of the city.
Imagine that…You start your day with an exercise in your pool located on your terrace that you can directly access from your bedroom… Imagine that accessing to the terrace from both the lounge and kitchen makes it feel like living on a yacht.
You can experience warmth and happiness by the fire in the winter garden of your Terrace Loft, or you can enjoy the coolness of the infinity pools on your terrace. Here, an exquisite view of the Bosphorus will also accompany the pleasant conversations you will have with your loved ones.
WORLD BRANDS ARE YOUR NEXT-DOOR NEIGHBOR

Nişantaşı is the address of world famous brands and the best fashion designers. Stylish stores, each more stylish than the other, adorn Abdi İpekçi Street, one of the most expensive streets in the world with their most popular designs.
To follow the fashion in Nişantaşı, you only need to take a walk. Every street is like a fashion show, every part of you is a different luxury.
Floor Plans & Pricing
| | | | | | | |
| --- | --- | --- | --- | --- | --- | --- |
| 2+1 | 2 | 2 | 165-302 m2 | $2.422.000-4.340.000 | Call for Availability | View |
| 3+1 | 3 | 3 | 293 - 350 m2 | $3.870.000 - 4.348.000 | Call for Availability | View |
| 4+1 | 4 | 4 | 396 - 654 m2 | $5.240.000 - 7.885.000 | Available | View |
| 2+1 DUPLEX | 2 | 2 | 209 - 266 m2 | $2.272.000 - 3.428.000 | Call for Availability | View |
| 4+1 DUPLEX | 4 | 4 | 535 - 562 m2 | $6.715.000 - 7.192.000 | Available | View |
| 5+1 DUPLEX | 4 | 4 | 569 m2 | $7.302.000 | Available | View |
Property Features
24/7 Security
600.000 m2 of green land
Cinema
Gym Center
Healthy home concept
High value investment
Indoor Poor
Infinity Pool
Pilates Center
Private terrace every in pools
Sauna
Secure Place
powered by
What's Nearby?
Transit Stations
Shopping Malls
Restaurants
Coffee Shops
Grocery
Education
Hospitals
Convenience Stores
Park
Attachments
Video